LET THE HOUSE CLEANING BEGIN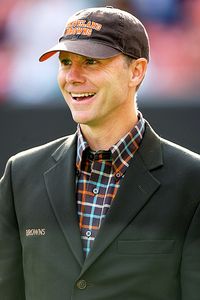 Above: Former Browns GM Phil Savage
Eric Mansfield (WKYC-3), Tony Grossi (Cleveland Plain Dealer), and Jay Glazer (Fox Sports) have all confirmed what we expected: Shortly after The Browns lost their final game of the NFL season at Heinz field in Pittsburgh, GM Phil Savage was fired.
The score was Steelers 31, Browns 0.
Further reports say that Head Coach Romeo Crennel will meet with the team ownership on Monday morning. Most observers expect that he will also be terminated.
Above: Browns Head Coach Romeo Crennel
The Browns finished 4-12 after a disastrous season. They are 24-40 overall, during Crennel's four-year tenure.